Forward March!
Weighted Ruck from Nynäshamn to Farsta
Is running or high intensity training too much for you? How about walking?
March 26th, 2023
YOU WEAR A BACKPACK, WALK
IT'S A FITNESS THING.
Rucking is the action of walking with weight on your back. Walking with a weighted rucksack (aka backpack) is a low impact exercise based on military training workouts.
(Credit: Goruck.com)
Carry 20% of your body weight for either 20, 40 or 60 kilometers.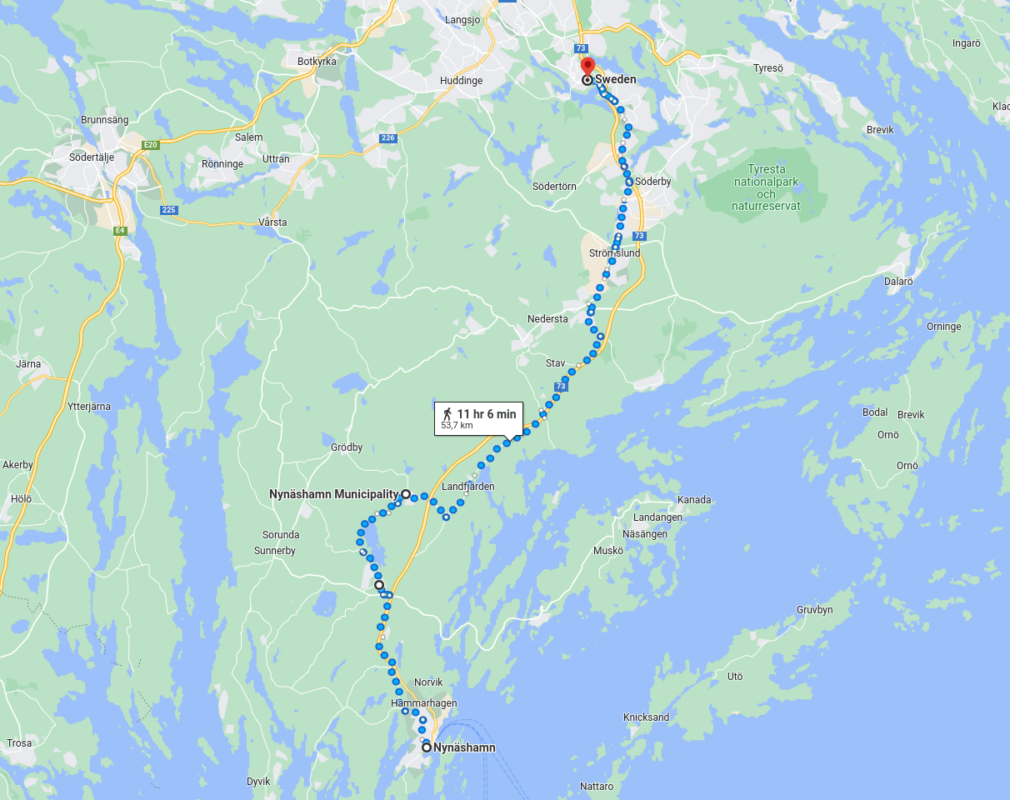 Everyone can RUCK!
All you need is good shoes, a strong backpack and clothes for the weather.
20% of your body weight can be anything - books, a kettle-bell, a small sack of sand. The
food and water you need for the day

also count towards the 20% weight requirement.
Event DETAILS
There are 4 waypoints: Nynäshamn, Segersäng, Västerhaninge, and Farsta.
The ruck starts at 6:00 with a proposed finish time of 19:30 (for the full ruck).
There is no race element to the event. Participants are competing  for completion within the allotted time.
There will only be 15 minute breaks at the waypoints. The rest of the event will be in motion (including eating and drinking).
There is no food or hydration served on this event. Participants are expected to prepare and carry their own.
Event RULES
The pace will be moderate at about 5.5km/h.
You will be able to choose which length you intend to finish when registering (either 20, 40 or 60 km).
There will be a staff member at the back of the pack. Anyone who falls behind this staff member will be disqualified.
If you are disqualified, you may continue to the nearest bus (SL) station. The route will stay close to standard bus routes.
No liquor, drugs or cigarettes will be permitted during the ruck.
If you must quit in the middle of a leg, we will try to help you get to the nearest public transportation. 
Event Schedule
Sunday, March 26th, 2023

04:00 - 06:00
Arrival and assembly at the Starting Point. Weigh-in.
---

06:00 - 07:00
Warm up, equipment check, 07:00 start
---

07:00 - 11:00
Leg 1 (to Waypoint 1: Segersäng)

-
20 kilometers 
---

11:00 - 11:30
Prizes and rest period
---

11:30 - 15:30
Leg 2 (to Waypoint 2: Västerhaninge)

-
40 kilometers 
---

15:30 - 16:00
Prizes and rest period
---

16:00 - 19:00
Leg 3 (to Finish point: Farsta)

-
60 kilometers 
---

19:00 - 19:30
Prizes and photos
Copyright © 2023 | The 4ward Team